Reiger Suspension is a shock absorber that can withstand extreme conditions endured in motorsport and car races. This shock absorber is the best in the world and can go through extreme weather conditions faced. It is ideal for the motor racing sector and drivers who ride on the edge of danger. The success in motor cross, endurance and sidecar sectors, led us to build more of such shock absorbers in the market. The Reiger Suspension is one such shock absorber that is used most in the motor sports industry and is built keeping in mind the personal requirements and safety of the drivers who drive motorbikes.
The Reiger Suspension is fine tuned to meet the requirements of an individual driver. These perform at the highest level and can withstand the worst conditions. Driving a motorcycle may be fraught with challenges. The most difficult situation is when a motorcycle takes off or even lands. These shock absorbers ensure that the take off is great and the landing smooth. On a concrete runway that is smooth, the take off is good and better than in other surfaces. Reiger shock absorbers are always the last ones to stand tall. They are your all weather friend while riding a motorbike!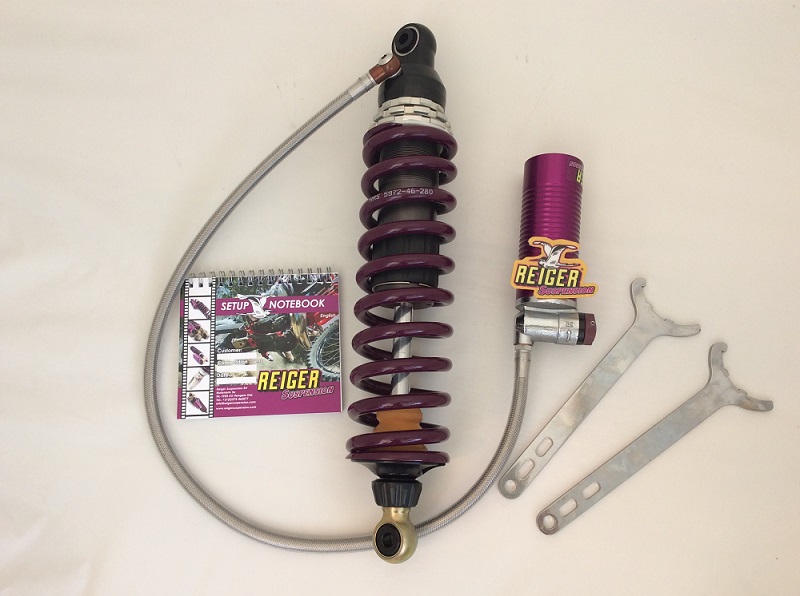 A Bit Of History
The production facility of Reigar started from the corner of a small chicken barn in the year 1977. With the passage of time, its popularity enhanced and Reiger became a common name in the automobile industry. Over the period of almost 4 decades, the company has grown and is currently operating from Hengelo, Holland. The suspension produced by Reiger, also known as Reiger Suspension, is of the highest standard and can be customised for all makes and models.
Whether you interested in Motor Cross, Enduro, Trial, Sidecars or Quads, the company has the ideal product for you. They consider the specific requirements of the rider like the rider's bike specifications or the rider weight fully kitted before they start crafting the ideal suspension. Nowadays, the shock absorber is not only a popular name all over the word but even recognised by the Canisters and Purple Springs. Customers approaching us for Reiger Suspensions can expect a turnaround within a span of 7 to 10 days.